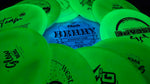 What's the deal with glow rounds?
We all know the struggle – you rush to the course after a long day, hoping for a round before the sun sets, only to find yourself desperately searching for your discs in pitch-black darkness. But fear not! Glow rounds are here to help.
When it comes to lighting up your discs, you've got options – glow tape, sticky LED lights, or the unbeatable glow discs. Unlike tape and LEDs, glow discs shine brighter, won't fall off after a tree collision, and won't mess with your throws, ensuring consistent flight day or night. If you do opt for tape or sticky lights, remember to illuminate both the top and bottom of the disc for better visibility.
But how do glow discs work? Well, you expose these discs to a bright light source, and they absorb photons, the tiny particles of light. These absorbed photons energize special pigments within the disc. When the lights go out, this stored energy is released as a gentle afterglow, illuminating your throws in the dark. This phenomenon, known as photoluminescence, is created when these pigments absorb visible, UV, or infra-red radiation. It's a non-radioactive process, ensuring safe, long-lasting illumination for your night games.
For illuminating your discs, a UV flashlight is your best buddy. It charges your discs faster without straining your eyes. UV flashlights are affordable and easy to find, making them a must-have for any night disc golfer.
For the best selection of glow discs, head over to our store and pick your favorite! We do recommend being a minimalist during night rounds though. Grab a few versatile discs that you can use on every hole. For a casual round, leave the high-speed drivers at home, especially in wooded areas where visibility is limited. Slower discs are easier to track, ensuring you don't lose your favorite discs in the dark abyss.
Other than getting your glow discs, picking the right course is also crucial for a fantastic night round. Opt for a familiar course with a shorter layout, especially if you're new to night disc golf. It'll help you navigate the fairways with ease and keep your throws in check.
And remember, the darker, the better. Avoid additional light sources to let your eyes acclimate to the darkness. But don't forget to light up your bag! Attach a glow stick, keychain light, or glow tape to your bag so you can always find it, even in the pitch-black night. We've heard stories of finding all the discs but losing the bag!
You might want to wear a glow stick or LED keychain on your clothes for added visibility too, especially if the course is bustling with activity, so you don't get hit by a disc. Always make sure the area ahead is clear before taking a shot, especially in mixed-use parks where non-disc golfers might be around.
We also recommend enjoying glow golf with friends. Having extra eyes to track throws and find discs is invaluable. Plus, you can switch between running ahead and lighting up the basket on each hole, enhancing the glow experience for everyone.
So there you have it! Armed with the knowledge of glow discs and the right gear, along with a focus on safety, you're all set to glow your way through the night. Grab your glow discs, gather your friends, and let the nighttime disc golf adventures begin!