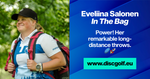 In the bag - Eveliina Salonen, the Finnish powearm
Welcome to our 'In the Bag' series, where we unravel the secrets behind the game of champions. Join us as we delve into the disc selections of some of the top FPO players, discovering the discs that fuel their victories and shape their winning strategies.
Today, we shine the spotlight on Eveliina Salonen, a formidable Finnish player whose skills have been showcased on the international stage. Eveliina considers her trip to the US her season highlight. Her improved putting and fierce competition landed her in the top 4 in all the tournaments she took part in, igniting her motivation for future victories.
Let's peek into her bag of favorites:
⭐ Aviar3: "My favorite upshot discs, super straight fly and easy to throw with both backhand and forehand."

⭐ Champion TL3: "My go-to fairway driver, incredibly straight and reliable."

⭐ Star Destroyers: "I think I have 7 Destroyers in my bag, ranging from super overstable to flippy ones. Easily my favorite distance driver, offering versatility for various shot shapes."
Eveliina also throws: