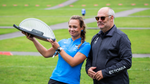 Watch NOW: European Disc Golf Championships 2023 I | Official Aftermovie
What a summer week in August at the Tallinn Song Festival Grounds. Europe's top 180 disc golfers, a menacing disc golf course The Rockstar designed by Seppo Paju, bells and whistles and new crowned champions - Kristin Tattar, Dennis Augustsson, Iida Lehtomäki and Onni Ruusunen.
Thanks to all the supporters, volunteers, spectators, players and to You, who are watching and sharing this video. This was just the beginning, see you in 2024!