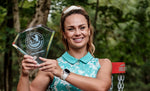 Europe's Disc Golf Rise: Kristin Tattar's Grand Slam and the Euro Dominance
Over the weekend, the 2023 United States Women's Disc Golf Championships went down in Burlington, North Carolina. The event will forever be written in the history books as Kristin Tattar secured her grand slam, winning all 4 major tournaments of the season. But what really caught our attention was the European takeover at the event.
Out of the ten European players in the mix, a whopping seven made their mark in the top 20. We had Kristin Tattar first on the podium, Henna Blomroos 3rd. Eveliina Salonen was T4, Lykke Lorentzen T8, Kristi Unt T11, Keiti Tätte T14, Heidi Laine T17. But here's the kicker: the remaining three European players also made it into the top 50%. Talk about a strong European showing!
European disc golfers are steadily climbing the ranks, and they're doing it with style. It's not just about one or two standout players; it's about the whole scene evolving. The European Disc Golf Championships in Tallinn this August is a prime example. It brought together 180 of Europe's finest players, and the feedback from both players and spectators was off the charts positive. It's clear that the European disc golf community is invested in taking the sport to the next level.
So, what's next for the European disc golf scene? That's the million-dollar (or euro) question. With the talent, commitment, and passion we've seen, it's safe to bet on more mind-blowing performances, groundbreaking milestones, and a stronger presence on the global stage. The future looks incredibly bright, and we're here for it. So, keep your eyes peeled and wonder, "What's the next big thing the Europeans have up their sleeves?" We can guarantee it'll be nothing short of epic.