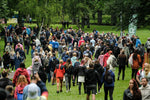 EDGC highlights: Approaching 500,000 views under the watchful gaze of Estonian President Alar Karis
From August 16th to 20th, the European Disc Golf Championships took place at Tallinn Song Festival Grounds, where the winners were crowned: Kristin Tattar, Iida Lehtomäki, Onni Ruusunen, and Dennis Augustsson. Here are six interesting tidbits to share with you:

Weeknd x EDGC

The Weeknd's concert at the Song Festival Grounds took place on Saturday, August 12th. The EDGC organizing team gained access to the venue on Sunday, August 13th, at 8:00 AM. The first official practice round started on Monday, August 14th, at 8:00 AM. This meant that the pop-up tournament course, along with fences, banners, flags, teepads, baskets, and equipment, needed to be set up within 24 hours.

Fences x Banners

For the European Championships, a total of 4.4 km of fences and 2.2 km of banners were set up at the Song Festival Grounds. Additionally, there were more than 200 flags, various additional equipment such as COOP and City Motors cars, CRAMO lifts, the first teepad under the Song Arch, a tall LHV tower, a Merevärava player bridge, branding for the Tallink course, and much more.

Kristin Tattar x 1054 (still rising, to be confirmed)

Kristin Tattar's score of -11 on her 3rd round is her highest-rated PDGA round in her career. Her initial rating was 1054, but it is expected to rise even higher after official ratings updates. This round is among the top 5 best rounds ever played by a woman in the world.

President Alar Karis x Erki Alliksoo's Masterpiece

Estonian President Alar Karis witnessed Kristin Tattar being crowned European champion and observed the last two rounds. He also presented the trophy crafted by Erki Alliksoo, which included a model of the Tallinn Song Festival Grounds.


Disc Golf Stream x Delfi x Inspira

The media coverage of the European Championships exceeded expectations. From Delfi, an average of 12,000 unique viewers followed the broadcast every day on all four competition days. On the Telia Inspira TV channel, the average daily viewership was around 15,500. Disc Golf Stream was watched by an average of 6,000 people every day, the final free LIVE broadcast on YouTube had 8,500 viewers, and as of August 23rd, the EDGC has been viewed on YouTube nearly 200,000 times. When all channels are combined, we are approaching 500,000 views, and the YouTube content is still gaining momentum. The European Championships received extensive coverage in August with over 100 articles, interviews, and posts, making it one of the most covered sports events in Estonia.

Growth of disc golf and 7500 spectators

Several Estonian sports influencers were present and shared their experiences, including Kalev Kruus x Betsafe, Sandra Raju x Be 1st! and "Mehed ei nuta" x Paju, Pahv, and Martinson. Additionally, Albert Tamm appeared on Ringvaade, and the European Championships were featured as a main topic in national sports news broadcasts every competition evening, even before the first day of competition. The event was covered by Delfi, Postimees, ERR, Õhtuleht, TV3, Kanal 2, and many others. More than 7,500 people attended the event at the Song Festival Grounds, Tallinn.

Are you ready for 2024? The work for the next world class disc golf tournament in Tallinn is underway, more information coming soon! Stay tuned, Team Discgolf Estonia #edgc2023
Photos: Mauri Levandi, Celin Lannusalu