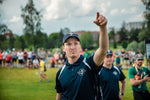 Teemu Nissinen: Seppo Paju will win Finnish Championships on his home course
Even at a young age, Teemu Nissinen #39696 is a Finnish disc golf veteran, who knows everything about our beloved sport. He has been one of the best players in Europe, worked his way up from Latitude64 sales to Discmania's account manager position, helped to grow the sport all across Europe and he has done lots of PowerGrip podcast episodes with different disc golf related people. Teemu has been a part of Team Europe and the Finnish National team for many times. He knows every disc from inside out – the man, the myth, the legend. Follow Teemu on Instagram. 
Which US players do you think will crush it in 2k22 and why?
2022 will be a super exciting year in disc golf and the field will get more and more competitive. I will predict two things: we'll see more new winners but in the long run I see that Paul McBeth, Ricky Wysocki and Eagle McMahon are still the Top 3.

And from Europe, what are your thoughts?
I'm expecting to see whether Niklas Anttila, Väinö Mäkelä and Linus Carlsson can take their next steps in US and challenge top US players on a weekly basis.

Who will win the Finnish PRO Tour, EuroTour and Euro PRO Tour?
This is difficult to predict because it depends so much on who is focusing on which of these tours. If top European players focus mainly on the US tournaments then we'll see new winners in Europe.

What about Finland, Sweden and Estonia – who will win the local championships in the MPO division?
Finland – Seppo Paju on his home course, Sweden – Linus Carlsson and Estonia – Albert "Bazooka" Tamm.

Hot prospects – which US and EU players will make the biggest progress and why?
I expect to see a big year from Kyle Klein in the US! In Europe I'm interested to see how much Tuomas Hyytiäinen can make progress this year.

And your 3 go to discs also and why?
My go to discs nowadays are:
Putter – New P2, this putter is so consistent and is suitable for every situation you might face on the course.
Midrange – New C-line Md3, slightly overstable midrange that you can trust also when throwing with max power! That new plastic is so good looking, it's stiff and it has a great grip.
Driver – New C-line FD, such a straight flier that it glides for days! Accurate distance that you can use all over the course!