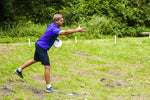 Silver Lätt: Carter Ahrens will be the rookie of the year
Estonian National Team member and a Team64 touring pro Silver Lätt #61186 is one of the most powerful sidearm throwers in the world. Do you remember his sidearm ace at Tyyni? Follow Silver on Instagram.
Players that you think will be in the centre of attention and will be winning the most in 2022 and why (MPO)?
In terms of men, there are so many good players that it is impossible to foresee results, but I will still give my predictions. I estimate that due to the new contract, Ricky's motivation should be extremely high and with the help of the new high-quality Swedish plastic he will take his third World Championship title. Young players will most probably be in the picture very actively as well (Klein and Buhr) and from old school players Freeman and Heimburg.

In terms of women it is easier to make predictions. Kristin Tattar and Keiti Tätte will be in the picture. Kristin is already known and has proved herself to the world, Keiti is probably slightly less known. Therefore, I think that her skills and mental strength will be put to the test. In addition to Kristin Tattar and Keiti Tätte, Eveliina Salonen and Henna Blomroos will also come and show their skills. I think when it comes to women, it will be a very successful year for Europe, and I truly expect to see these four women on the lead cards of some of the PRO Tours.

Who do you think from the Europeans might have a breakthrough and why?
With each year the number of touring Europeans increases, but I will make my bet on Niklas Anttila. He is extremely nice and has proven himself repeatedly in his home country. I believe he will be able to show excellent results in the US as well.

Who will win the overall standing in the Finnish PRO Tour, EuroTour and EuroPRO Tour and why (in the MPO division)?
Since all my attention is directed towards the US then I have no clue or idea who will participate in the Finnish PRO Tour and in what extent. The same goes with the EuroTour and the EuroPRO Tour. I think that the Finnish PRO Tour will be won by somebody who is not touring in the US and most probably somebody local. I would have to go in deeper to predict any specific names. In terms of the EuroTour perhaps the Amann brothers from Austria or Blaer from Iceland.

Let's talk about the championships in Estonia, Finland and Sweden. Who will win the MPO division in 2022?
I hope that there will be three so to say surprise winners – Hannes Kurn from Estonia, Lauri Lehtinen from Finland and Max Regitning from Sweden.

Hot prospects, who will have the biggest leap in terms of development?
Very difficult to say but my estimation is Carter Ahrens who will also take the trophy of "rookie of the year".

Your 3 go to discs and why?

MEDIUM HARP – Extremely versatile and trustworthy when it comes to approaches. All 90 m holes I can play with Harp.
OPTO PIONEER – When I can't reach the hole with Harp, then fairway driver Pioneer it is.
GRAND RIVE – During this off-season I replaced all my drivers with Rive. It is perfect for forehand and backhand throws, and it has a very nice grip.