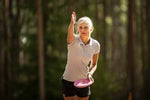 Keiti Tätte: my 3 go to discs are Latitude 64 Pure, Trust and Grace
Keiti Tätte #94085 is a reigning FPO Estonian Champion, 4th place finisher at the 2021 European Championships, and a new member of Latitude 64° Pro Team. Keiti Tätte has followed in the tracks of Estonian star Kristin Tattar, and last year Keiti has showed that she has what it takes to challenge the best players in the world. Follow Keiti on Instagram.
Your 3 go to discs and why?
Latitude 64 Medium Pure – I have just recently started using this putter, but the difference is already greatly noticeable. You can really witness the glide of this disc once you are putting from a distance. In my opinion due to the great glide of this disc it is much easier to hit the target, especially from a further distance. I feel like after I started using this disc my OCP percent has increased.
Latitude 64 Grand Trust – This is another rather new disc in my bag. It fits nicely in my hand and is extremely comfortable. It has a specific flight path for me. Perfect for backhand approaches.
Latitude 64 Grand Grace – This disc found its way into my bag in the middle of last year's season already. I would compare this disc with the flight path of Trust, where I throw hyzer and it goes straight and ends with a decent fade. It has more distance then Trust. I use beat in Grace for hyzer flips and max distance throws. 
Photo: Mauri Levandi
5 discs for a beginner to maximize the fun of the game. What would you recommend and why?

Latitude 64 Medium Pure – The disc itself and the plastic are very comfortable. It glides seamlessly even when the beginner doesn't have a lot of spin in their throw.
Latitude 64 Opto Fuse – I would actually suggest it as a first disc for a beginner. Due to its characteristics, it should be very easy to use for a beginner and it doesn't fade significantly to the left or right in the end.
Latitude 64 Opto Anchor – Overstable midrange that you need. Anchor is perfect for these situations.
Dynamic Discs Lucid Vandal – Vandal has been my go-to discs for a long time. This is the best fairway driver for beginners. Speed is also decent - 9.

Latitude 64 Gold Sapphire – key facts - light weight, speed 10 and flies far. Rim is smaller, so it fits perfectly into your hand. You will get distance, I promise.
Three recommendations for a beginner, what to keep in mind?

Safety – The most important thing on a disc golf course that beginners often forget to think about is safety. When you see other players on the course and your failed throw might fly towards them you must notify them immediately or throw after they have reached a safe distance. When you are playing with a group of players the rules are always the following: the player whose disc landed the furthest from the basket starts and other players remain behind him or her. This way we can avoid injuring each other.

Fun – People usually start playing disc golf because it seems interesting and a fun way to spend time with your friends. As time goes on you obtain skills but also expectations towards yourself. Don't go out of your mind if everything doesn't always go as planned. There is no point in playing with a bad mood or mindset. Try to learn from your mistakes and be happy when you succeed.
If you find yourself constantly trying and trying and still your discs don't fly as you are hoping they would, ask for advice from advanced players. If that doesn't help, I would suggest to go get private lessons from professional players. When you get useful tips once you are beginner and just starting out, it is way easier to obtain a good and suitable technique. It is much more difficult to correct your technique later.


Photo: Mauri Levandi
How to prepare for the season when it is winter, there is snow and it is extremely cold?
It is very difficult to prepare in Estonia during off-season. When playing in the winter I don't really think about whether I am wearing five layers and whether I feel comfortable or not. Keeping warm is extremely important to me so this means that I will wear as many layers as needed for that.
In terms of where I play, I pick courses that are taken care of regularly. It is dangerous when the ground is slippery and, in such conditions, I already throw subconsciously with a slower movement. Of course, you can use different shoes that are suitable for ice but you then have to consider that with different throwing techniques excessive attachment can have a bad effect of the knees.
Using ribbons are not very popular among players but losing your discs in the snow is a very relevant issue. Therefore, you really must fixate the landing point rather quickly right after you make your throw (e.g. try to pin point it with a nearby tree or bush) and once you arrive where you think your disc landed, look for the traces through which the disc might have entered the snow. Once the snow has been trampled or you have already searched for a long time it is very easy to lose your sense of direction. I suggest using spotters when playing longer courses.
Putting outside is unpleasant with that kind of weather. Luckily there are options for indoor training available in both Tartu (Discgolfar) and Tallinn (Discgolf.ee). I personally do the putting training for up to 45 minutes because in the end both my hand and brain get tired, and the results are no longer accurate.
Your Top 3 achievements in 2021?
4th place in the European Championship – this was the competition of the year for me. The feeling that I felt when competing there was something new to me. It felt so big and powerful and something that I had never felt before. I felt very powerful competing and I felt indescribable emotions there.
Photo: Margit Kurvits
1st place in the Estonian Championship – again a dream come true. I surprised myself with such a stable game. I believe that it was necessary for me to experience the last round exactly the way I did, and I hope I can learn from it. You can't train for situations like that, you must live through them in order to become a stronger player. I am extremely happy for all the support and good comments that I have received. You have no idea how important they are for me, and I really cannot thank you enough.
Getting the Latitude64 Pro contract – to this day this feels so unbelievable to me, and I don't think this has really hit me yet that next season I will be touring in the US and as a professional player. My contract is a good example of how important different contacts are and belonging to a team in Estonia.