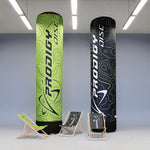 Products for effective brand marketing at exhibitions and trade shows, outdoor events, and in-store
Do you need impressive solutions for trade fairs and outdoor events, or do you want to promote your brand at retail? Then you need our products. Our range is designed to enhance your brand marketing and impress your target audience.
Excellent product design and quality workmanship make our display stands easy to use and visually appealing.
Our products are designed not only for appearance but also for reliability and durability. This is important if you need a product for an extended period or frequent use.
We use a lot of fabric for graphics because it looks more representative and it allows for easy graphic replacement.
We can brand the ready-made products on site using printing or vinyl decals.
Some products are made to measure, making them easy to fit into existing spaces or combine with already

existing

gear.
Some solutions are highly flexible – they can be expanded and restructured. This allows you to use the same set for multiple events. You are no longer constrained by the size and shape of the venue - you can buy additional pieces as needed or leave unnecessary pieces at home.
Mobile solutions give you peace of mind – you can bring your stand with you and don't have to rely on the venue's arrangements.
Reusable solutions for

exhibitions

and events help the environment and save money.

 

When you reuse your structures, you save both money and the environment.
The best results come from the right choice of products. Our sales specialists can help you choose the products for your needs.
We understand that timely delivery is crucial for events.
Take your business to the next level with our products. They make an impact and increase your brand awareness, whether you're exhibiting at a fair, marketing or sales event, or seeking better visibility in retail.