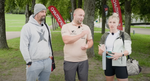 EDGC special video: Kalev Kruus vs Sandra Raju
📷 Picture this: a podcast host and a sports commentator walk onto the stunning greens of #EDGC2023, armed with discs and ready for action! But that's not all – they're teaming up with none other than professional disc golf players for a day that's jam-packed with fun, skills, and laughter.
In a match made in disc golf heaven, the incredible Sandra Raju from Sportland Eesti's Be 1st! podcast joined forces with Hannes Kurn, while the unstoppable Kalev Kruus representing Betsafe Eesti teamed up with Kristi Unt. These dynamic duos took on the challenge of five holes at the European Disc Golf Championship 2023, and trust us, it was a ride like no other!
🤯 From jaw-dropping shots that left us all in awe to unexpected twists that kept us at the edge of our seats – this journey had it all. And oh, the good vibes? They were absolutely contagious!