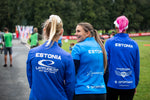 Estonia's Disc Golf Scene Aims for the Stars: Major Event on the Horizon
We have some exciting news to share from the heart of Estonia's vibrant disc golf community. The organizing team behind the European Disc Golf Championships and a prominent stop on the Disc Golf Pro Tour in Estonia has set their sights even higher. They've taken a bold step forward, aiming to bring a Major event to the iconic Tallinn Song Festival Grounds in 2025.
The Journey to Major Status
The journey to securing a Major event is no small feat. The application process involved meticulous planning and presentation. The team had to showcase their expertise through a professional presentation, introduce their crew, provide detailed overview of the event location, and adhere to various requirements, including budgeting, prize allocations, and technical aspects of organization.
An essential aspect of their application was the support and recommendation from key entities, including the country, Tallinn city, Estonian Olympic Committee, Estonian Disc Golf Federation, and sponsors. This backing demonstrates the widespread enthusiasm and commitment to bringing top-tier disc golf events to Estonia.
Optimism and Determination: Estonia's Disc Golf Future
The organizers are brimming with optimism and confidence. Their belief in Estonia's potential to host a Major event is backed by a hardworking team, fantastic location, supportive sponsors, elite players, and a passionate fan base. Although they estimate their chances at around 20% for 2025, the organizers remain undeterred. 
Looking Ahead: World Championships on the Horizon
The dream doesn't end with the Major event. The team is setting their sights on hosting the World Championships in the picturesque Tallinn Song Festival Grounds and Kadriorg Park. These locations offer an ideal setting for this prestigious competition, and the organizers are determined to make it a reality.
As the disc golf community eagerly awaits the announcement in early December, Estonia stands on the brink of making history in the world of disc golf (again!). The passion, dedication, and ambition of the organizing team are driving Estonia's disc golf scene to new heights.
Stay tuned for more updates on this incredible journey and join us in supporting Estonia's bid for disc golf greatness. Together, let's make history in the heart of Tallinn!