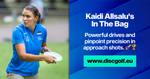 In the bag of Kaidi Allsalu, the reigning Estonian Champion
Welcome to our 'In the Bag' series, where we unravel the secrets behind the game of champions. Join us as we delve into the disc selections of some of the top FPO players, discovering the discs that fuel their victories and shape their winning strategies.
Today, we dive into the bag of Kaidi Allsalu. Kaidi had a strong season both in Estonia and internationally - she's the reigning Estonian Champion, Estonian Winter Champion, Baltic Champion, and she won the Copenhagen Open. She finished 7th at the European Championships and also went on a quick tour to the USA. 
Let's see what plastic supports her in her game:
Isaac Robinson M4: "When a straight throw is needed, this disc is perfect in my bag. It holds straight lines perfectly and is excellent for both slight hyzer and anhyzer angles. Its great glide makes it a versatile choice."

F5: "A new discovery and a significant favorite in the latter half of this year. Indispensable in the woods, it adapts to all possible lines, making it my go-to choice for crafting lines in the forest."

D3 400: "In calm weather conditions, it delivers a straight flight and allows for impressive distance throws. For windier situations, the sturdier D2 400 performs similarly, providing stability while still managing to capture distance even against headwinds."