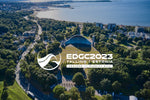 This summer, Tallinn Song Festival Grounds will host Europe's best disc golfers as part of the European Championships
The European Disc Golf Championships will take place this summer (August 16–19) at Tallinn Song Festival Grounds. 180 Europe's best disc golfers from nearly 30 countries will compete on the highest category track that will be set up, especially for this occasion.
According to Silver Leetma, the main organizer of the event, Tallinn Song Festival Grounds is the perfect location for organizing a top-level competition. "Such a central location for a top-level competition is extremely unique and priorly unheard of. Getting to the location either from the airport, harbor or the Old Town only takes a couple of minutes and doesn't require much effort. Considering how popular disc golf is in Estonia and in the neighboring countries, you can expect to see a lot of fans by the course," Leetma commented.
Estonia won the right to organize the European Disc Golf Championships from another strong disc golf country – Norway. The key factors in favor of Estonia were the excellent location for the competition, the various experience that the organizing team has with organizing large-scale events, and the incredible popularity of disc golf among the locals. According to Leetma there are currently more than 40 000 people all over Estonia that play disc golf. "If we also include our own superstars, reigning world champion Kristin Tattar or Albert Tamm, who tours the US every month, then we can put together some rather good arguments why such an event should be hosted in Estonia," he added.

 Photo: Kristjan Noormets

Photo: Joosep Martinson
According to Leetma, with the help of several partners and supporters, the planned budget for the event exceeds a couple of hundred thousand euros, as the goal is to organize an event that will be remembered years from now. Leetma believes that hosting the competition in Estonia offers local companies that want to stand out in Europe an excellent opportunity to present their products and services to a wider audience through disc golf. "When organizing such an event, we try to think outside of the box and offer our partners exciting solutions to stand out both, on the disc golf course and also in videos that will be produced from the event during the four days", specified the main organizer of the event.
The European Disc Golf Championships will take place at the Tallinn Song Festival Grounds, August 16–19, 2023. You can compete in mixed, women's open divisions, and junior divisions. Find more information about the event: https://www.eurodiscgolf.eu/.


Photo: Celin Lannusalu
Photo: Celin Lannusalu