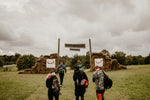 Elviss Brauns: Latitude 64 Festival LV2023
The L64 Festival will be held in Latvia for the first time this year. Please tell us a little bit about the background and also how and why are you organizing this competition?


I have been developing and organizing disc golf in Latvia for more than 7 years now. Each year we try to push the disc golf scene more and more here in Latvia and surprise people with new records and set the bar higher. Once someone has done it others have higher belief. That is how our mindset has always worked when pursuing all our projects. We always look up to the best in the world and keep chasing them. Latitude 64 has always been my favorite brand since day one, they are the ones that stood out for me with their work ethic and philosophy, so probably I see some kind of similarity with my mindset and that is a great combination for achieving great results! For me and the team, the Latitude 64 festival is another big step up for the national disc golf scene, no one has ever done it here in Latvia, having 270 players playing a competition on 3 courses simultaneously. So why not us!? This is a great example that Latitude 64 believes in people who try to reach over their limits and everyone can be a part of making history.
How many players will have the possibility to play? What is the status with the registration and how could one get on board?


Latitude 64 festival LV2023 has 270 spots but the demand is bigger than that. The first to make the payment reserve their ticket for the festival. Currently we are less than 100 days away from the festival and only 88 unpaid spots remain.
Let's talk about the parks, which tracks will be played and what will the exact format be like?

As I mentioned we will be playing 3 courses:
Rezidence Kurzeme
,
9Hill
and
Laumas.
All of them are part of Talsu Novads Latvia within 30 minute range from each other. It is kind of a perfect match for the event because all these courses have that same mindset that I have talked about.
Laumas
is the oldest permanent course in Latvia, they were the ice breakers in 2012 to establish a base for disc golf in Latvia.
9Hill
 is the most ambitious course that is probably one of the toughest courses in Europe, they keep building every year and are hosting PDGA EuroTour for the second year now. Finally
Rezidence Kurzeme
 is one of the newest courses in Latvia, and definitely the only one with such a great infrastructure to host 100+ players in their hotel and guest houses.
All these courses are well groomed, with championship level baskets, solid 2 x 4 m teepads with artificial grass, this event will be a blast for the players. The format for the event is as follows: we will have players split into 4 divisions: FPO, TOP MPO(90-FPO), MIDDLE MPO (90), BOTTOM MPO (90). We will have shotgun starts and each player will play each of the courses. The Official competitions are on Saturday (2 rounds) and Sunday (1 round). Friday evening we will have a Free Doubles event in Rezidence Kurzeme.
What about the overall disc golf scene in Latvia – what is the current situation like and how do you see it developing for example in the next three years? How many players do you have in Latvia and how would you rate the increase in 2022?

As in every other country Latvian disc golf grew effectively during Covid times. We have reached a point where we currently have 3500 players in DGMetrix and 37 public courses where 18 of them are 18+ basket courses. We finally get the feeling that demand for disc golf is getting where it is supposed to be. The future looks promising, we are getting a sense that new people will start picking up the sport and get into the grind mode. We have Rainers Balodis who is a young talent that has set the bar for others to beat, and I see a lot of new talents coming out. I believe that within 3 years we will have tripled the amount of players and doubled the amount of courses. Bigger events happening, new retailers and organizers popping up each year is a sign that the future is bright!
Who are your promising top players and on who should we keep our eyes on?

The number one "talked about" player definitely is
Rainers Balodis
. He already has made some name within the Baltic community and I believe that if he pushes to European competitions this year he will also make a name for himself there. Another great player is
Renars Strazdiņš
who is a sparring buddy for Rainers and has all of his secrets and also plays great himself.
Alfs Vilcans
, a disc golf fanatic who rides a bus to tournaments all over Latvia just to get the experience, I see that he wants a bite from Rainers success. There is also the first official Latvian disc golf trainer 
Rolands Bergs
, who is actively developing new talents and who is a TOP5 player in Latvia himself. And last but not least I would keep an eye out for
Helena Dreimane
, she is young, hard-working and definitely an active content builder with a smooth throwing technique she is one of the fast rising FPO-s.
If you could choose one track, which one would it be? What is the go to track in Latvia which every disc golf player should visit?

Uhh, this is a tough one, we really have some courses to enjoy and luckily they are not so far from the Airport of Riga. If a player is looking for a fun and exciting time then go to Riekstukalns which is open only during summer because in winter time it is a skiing resort, but if a player is looking for some "Grind" then 9Hill is definitely the toughest course out there in Europe.