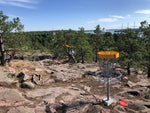 Mikko Wikman: EPT-X - events that have something extra than other events
EPT-X event manager Mikko Wikman: "EPT-X is a direct successor for the NBDG-X series. NBDG-X was our idea to offer experiences to players of all levels. Experiences with disc golf but also with local specialities, unique courses and special gatherings with dinners etc. Unfortunately, due COVID-19 the NBDG-X series had to be canceled twice. For 2022 we decided to organize the European Pro Tour for Europe's top players and EPT-X was born to be the supporting tour for EPT."

"The basic idea remains still the same - experiences. Most of the tour destinations are courses which can't reach the EPT level. Their location might not be ideal or possibly the course isn't challenging enough for top players. But these are the locations to offer the experiences. There are also some higher quality events with tougher courses on the tour. Added to experiences, those events might be seen on EPT in the future," added Wikman.
Photo: Joosep Martinson I Mijas discgolf park - Silver Lätt

Check out EPT-X website - https://europeanprotour.com/ept-x/



EPT-X - "The must experience" events in 2022:

EPT-X Welsh Open
Felin Geri is a disc golf oasis located in Wales, UK
 "Glamping" - luxury safari tent destination
Historical remains, 17th century  water mill, traditional Welsh cottages
https://felingeridiscgolf.co.uk/

EPT-X Arbopen
Pop-up course in a huge botanical garden in Hungary
Central European Championships were held at the same spot in 2021

EPT-X Åland Open
World's biggest DiscGolfPark - 12 existing courses and 8 upcoming courses on Åland Islands
Absolutely great destination for disc golf roadtrip

EPT-X Tyyni
Well, the biggest disc golf event in Europe with over 1000 players
Six days (and also nights) full of disc golf

EPT-X Tuscany Open
Absolutely beautiful course on the Tuscan mountains
Visit to vineyard after your round? Oh yes!

EPT-X Fuengirola Open
The biggest disc golf event in Spain
A perfect season-closing event under the Spanish sun (when it's cold in Northern Europe)