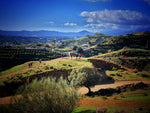 Mijas – European disc golf getaway in Spain, Fuengirola
We are talking to the man, the myth, the legend – Finnish disc golf promoter Panu Paunonen. He is behind the Mijas disc golf park in Fuengirola, Spain.



Photo: Joosep Martinson

Follow disc golf park Mijas on:

Facebook - https://www.facebook.com/DiscGolfParkMijas
Instagram - https://www.instagram.com/discgolfparkmijas

What should we know about the Mijas disc golf park?

The Mijas disc golf park has two 18-hole courses: an easier red course and a more challenging blue course. Lots of fun elevations to throw downhill and uphill and sunny weather approximately 300 days a year.

Henna Blomroos #59227 - reigning Finnish and European champion in FPO.

What kind of disc golf events are held in Mijas this season and when?

PDGA weeklies or normal weeklies during winter time, various bigger events throughout the year. Come and organize your event in Mijas! Right now we have the Mijas Spring Disc Golf Festival. For example the PDGA Mijas spring opener for pros starts tomorrow. We almost have a full field, around 90 players.

If I am planning a vacation in Mijas then what should I know?

Mijas and Fuengirola are grown together as a one medium-sized town. You can enjoy Fuengirola's 7 km beach and play disc golf nearby. Perfect vacation spot for disc golfers. Only 15 minutes drive from the Málaga Airport.


Some pro-tips travelling to Mijas?

The weather is perfect for disc golf really throughout the year. In July and August you'll need to carry a lot of water with you while playing disc golf as those are really hot months.

Be sure to check out surroundings too as there are many beautiful places in Costa del Sol. Be sure to book your rental car in advance so that when you arrive at the airport the car is waiting for you ready at the rental company. This is the easiest way to move around and visit the course from your accommodation.

Top 3 things to do besides disc golf?

1. Caminito del Rey, the King's Path. You need to see this if you are not afraid of heights.
2. Mijas Pueblo is a cozy white village nearby. Hang out, see the sunset from the Pueblo balcony and visit a handmade chocolate factory Mijas Monkeys!
3. Have a cozy evening by playing a great minigolf course (aventura golf) near the Miramar shopping center and satisfy your munchies in a Swedish munchies restaurant by ordering great burgers.
(4. Bonus) Visit a small but nice zoo in the center of Fuengirola. It is a really cozy and funny biopark.

Best place to eat in Fuengirola and what should I order?

Munchies Smokehouse & Bar! They serve the best in house smoked meats, burgers and local craft beers on the coast. We often choose the legendary meat lover burger – mind blowing! And the fries are to die for!
Seppo Paju is exploring Disc Golf: Mijas, Spain

Follow Seppo Paju on Instagram: https://www.instagram.com/seppopaju