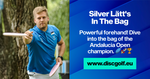 Welcome to our 'In the Bag' series, where we unravel the secrets behind the game of champions. Join us as we delve into the disc selections of some of the top MPO and FPO players, discovering the discs that fuel their victories and shape their winning strategies.
Meet Silver Lätt, renowned as 'Mr. Forehand,' whose exceptional skills powered him through challenging weather conditions at the Andalucia Open, resulting in the biggest win of his career. Let's take a closer look at the discs that led him to this remarkable victory!
Silver's Favorite Discs:
Rive: "My signature Orbit Rive - all day long, wind or not!"

Honor: "Grand Honor, irreplaceable in windy conditions. For when I don't want to throw a distance driver, but rather control the distance with a speed 9 disc."

Suspect: "Hybrid x Suspect. Up to 110m straight with forehand, super comfortable for forehand approach shots."
In his bags:
Putter:
Midranges:
Medium Moonshine Harp
Hybrid x Suspect
Fuzion Emac Truth
Lucid Justice
Fairway drivers:
Opto Pioneer
Gold Orbit Saint Pro
Opto Saint Pro
Opto Explorer
Grand Glory
Grand Honor
Distance drivers:
Orbit Kristin Tattar Grace
Orbit Silver Lätt Rive
Opto Defender
Opto Havoc