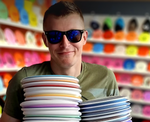 Andres "AndiDye" Jürivete: My 2022 bet is on Kristin and Ricky!
Who is AndiDye? He is Estonian. He is top notch dye-king. World class custom disc golf dyes, stencils and prints. If he can draw it, he can dye it! Follow AndiDye in Instagram.
Which US players do you think will crush it in 2k22 and why?

I think Ricky Wysocki will crush it in 2022. Time has shown that playing with Trilogy discs has improved his game. I think he has a good chance to become a champion once again. Paul McBeth and Eagle McMahon will be there trying to stop him. My bet is on Ricky!

And from Europe, what are your thoughts?

FPO – Kristin Tattar deserves a major win this year. I'm pretty sure she will dominate! It has been difficult for her just to get there to play. I think if she has a clear mind without any setbacks she will become Top 1!
MPO – Lauri Lehtinen looks promising. He has everything to make it, all he has to do is go TOURING! Niklas Anttila from Discmania also showed superb performance last year. Everything is possible.
Who will win the Finnish PRO Tour, EuroTour, Euro PRO Tour in the MPO division?

It is a little bit too early to tell. That depends on who will participate.

What about Finland – who will win the local championships in the MPO division?

It's either Lauri Lehtinen or Niklas Anttila.

Hot prospects – which US and EU players will make the biggest progress and why?

Ricky Wysocki because he is highly motivated to be the best and now he has the right tools to become one. Keiti Tätte will show how great results are made in a very short period of time. The fresh contract motivates to level up and make it a career.
Photo: @aliceart_foryou
Your 3 go-to discs and why?



Westside Vip Warhorse – That disc just handles everything. Headwinds, anhyzers and great skip shots.

Dynamic Discs Lucid-x Verdict – You can throw it hard and you always know when it is going to fade. Very predictable midrange.

Westside Medium Shield – That putter just suites me the best.  
Check out AndiDye's custom made collection in Discgolf.eu online store.