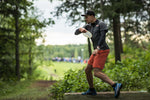 Albert "Bazooka" Tamm: 2022 will be the year of the duel between Ricky Wysocki and Paul McBeth
Albert "Bazooka" Tamm is a professional Team Latitude64 disc golfer, 4x Estonian National Champion, 2x Estonian PRO Tour Champion, USDGC 2021 Distance Champion. His PDGA rating is 1017. Follow Albert Tamm on Instagram.

Players that you think will be in the center of attention and will be winning the most in 2022 and why (MPO, FPO)?
I think 2022 will be the year of the duel between Ricky Wysocki and Paul McBeth but for some reason I feel like the World Championship will be won by someone else, maybe Eagle McMahon for example. In the FPO I feel like players from Europe will deliver properly, lead by Kristin Tattar. It will be interesting to see how girls from Finland will manage to keep up.

Who do you think from the Europeans might have a breakthrough and why?

I think Niklas Anttila, I like his overall stable game and I think that creates a solid ground for a breakthrough.
Who will win overall standing in the Finnish PRO Tour, EuroTour and EuroPRO Tour and why (in the MPO division)?
To be honest, I have no idea what kind of a selection of players will participate. My estimation would be that the Finnish Pro Tour will be won by Luukas Rokkanen, the victory of the EuroTour will go to Estonia or somewhere outside Finland and the EuroPRO Tour will be won by for example Joona Heinanen.
Let's talk about the championships in Estonia, Finland and Sweden. Who will win the MPO division in 2022?
Estonia – I would guess someone local, maybe from Tartu.
Finland – Lauri Lehtinen
Sweden – Linus Carlsson
Hot prospects, who will have the biggest leap in terms of development?

In my opinion there are a lot of young and talented players out there right now who are waiting for their opportunity. In the US a left-handed player stood out to me – Zach Arlinghaus.