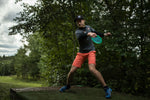 ALBERT "BAZOOKA" TAMM: MY 3 GO TO DISCS ARE HARP, TRUST AND BALLISTA PRO
Albert "Bazooka" Tamm is a professional Team Latitude64 disc golfer, 4x Estonian National Champion, 2x Estonian PRO Tour Champion, USDGC 2021 Distance Champion. His PDGA rating is 1017. Follow Albert Tamm on Instagram.

My 3 go to discs:

Westside Harp – the perfect disc for approaching and it works perfectly with both forehand and backhand.

Latitude 64 Trust – the perfect midrange disc for courses that are either in the forest or just out there in the open, it has a stable direct flight.

Latitude 64 Ballista Pro – distance, who? With different plastics I am able to cover all kinds of different flight paths. I use Opto-X and Gold-X the most.