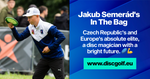 In the Bag of the Czech elite - Jakub Semerad
Welcome to our 'In the Bag' series, where we unravel the secrets behind the game of champions. Join us as we delve into the disc selections of some of the top MPO and FPO players, discovering the discs that fuel their victories and shape their winning strategies.
Let's kick it off with a deep dive into the bag of one of Europe's rising stars, Jakub Semerad! This Czech disc golfer had a stellar season, making his mark across both Europe and America. When asked about his season highlights, he fondly recalled the entire west coast swing in the US. Semerad takes pride in his 9th place finish at the Beaver State Fling and his 14th place at the Portland Open. He also loved playing in the final round lead card at the OTB Open, ultimately finishing 13th.
In addition to his remarkable achievements, let's hear it straight from Jakub about his favorite discs:
Hope: Perfect putter for throwing and putting. It helped me win the putting world championship in 2022!

Lucid Justice is just the ideal midrange for accurate approaches with both forehand and backhand.

Jakub Semerad Ballista Pro is easily farthest flying disc I've thrown.
So, buckle up and get ready to explore the discs that fueled Jakub Semerad's remarkable season. Let's uncover the tools of his trade that propelled him to greatness! 🏆